2012 has been a great year for me. I expanded my plugin development business, I started a large community-driven plugin project, I contributed to WordPress core and plugins that were not mine, and my wife and I started a family by bringing our first baby girl into the world.
Site Stats (Pippin's Plugins.com)
This site has seen very steady growth since it's launch a little over a year ago (October, 2011) and I'm quite happy with the numbers.
207,841 different people visited the site in 2012, with 307,889 visits total. There were 630,599 page views and an average of just over 2 page views per visit.
Nearly 33% of the site visitors were returning visitors (I think that's good).
The most visited posts / pages on the site were nearly all detail pages for some of my more popular plugins (no surprise there), with Easy Content Types being the most popular, and Restrict Content Pro taking second place.
My primary goal for 2013 will be to pass 1 million page views on the site in a single year (2012 had about 640,000).
Posting Stats
In 2012, I published 169 new posts, which is 69 more than I published in 2011.
Membership Stats
Exactly one year ago, I launched my membership section to this site. Paid members gain access to restricted tutorials and also free downloads of several plugins offered exclusively through the site.
Currently active and paid subscribers: 176
Expired subscribers: 272
Free members: 4953
Active members by subscription level:
– Hobby Coder: 39
– Coder by Night: 41
– Code Monkey: 87
Earnings from paid memberships (Jan 1, 2012 – Dec 31st, 2012): $8770.10
Easy Digital Downloads
Last April I launched a large plugin project called Easy Digital Downloads, which is an e-commerce plugin specifically for selling digital products. The plugin has really taken off and has seen a large amount of growth over the last nine months and I'm exceptionally pleased with where the plugin is today.
EDD has been downloaded 41,888 times from the WordPress.org repository.
The plugin has 5 official contributors: mordauk (me), sksmatt, sunnyratilal, SpencerFinnell, Chriscct7.
40 developers have contributed patches to the EDD.
Easy Digital Downloads has received 62 5-star ratings and 17 reviews (all 5-star).
There are currently 63 published extensions for EDD, with many more in the development / planning stages.
EDD earnings stats from extension sales:
891 extension purchases have been made

$24,624.20

has been made in extension sales since April, 2012.

$4,469.65 has been paid out in extension sale commissions for other developers
$1,234.20 is waiting to be paid out to other developers for extension sales
$1425 has been paid to developers for contracted extensions
Easy Digital Downloads has been adopted as the sales platform of choice by some very popular WordPress theme / plugin shops:
Easy Digital Downloads has also succeeded in hiring three paid support staff to help with the ever-growing support ticket numbers.
Our funny blue monster got made into a plushy: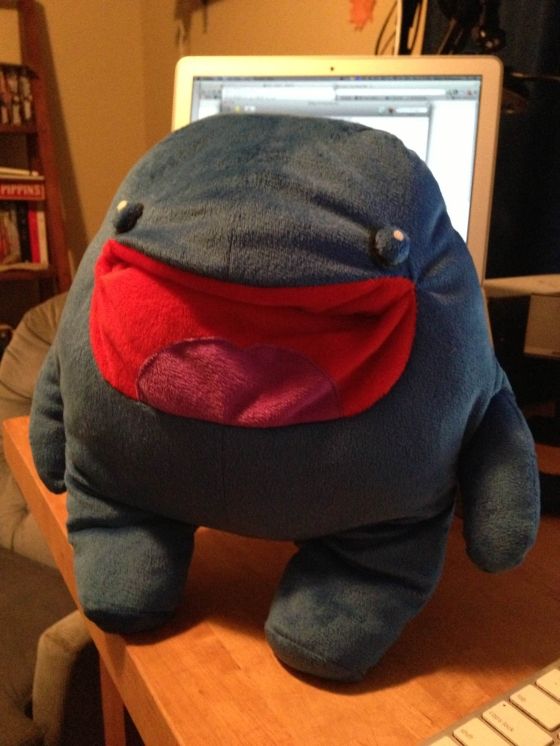 I really couldn't be happier with how well Easy Digital Downloads has been doing.
Commercial Plugin Sales
My commercial plugins include all of those sold through Code Canyon.net, Mojo Code, and this site.
Commercial plugin sales account for a very significant part of my annual income (it's more than enough to support my family) and today has been a good year.
My most valuable plugin is Easy Content Types, with the runner up being Restrict Content Pro.
Total plugin sales: 6239
Total earnings in plugin sales in 2012: $68496.16
My Daughter
Eliza Joy Williamson was born May 10, 2012.